So.... as a few people have pointed out to me recently, I haven't written anything in ages..... don't worry, I will definetley while we are away!!!
Anyway, to get myself back into the swing of things, here are some photos from when we went to see Glee in June!
Glee is our all time favourite TV show, and I was so excited when I found out they would be bringing Glee Live to London in 2011, so we of course had to go ;)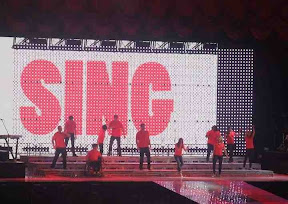 And I finally got a chance to wear my beautiful gold Betsey Johnson dress that the Glee cast wore in the Season 1 finale at regionals!